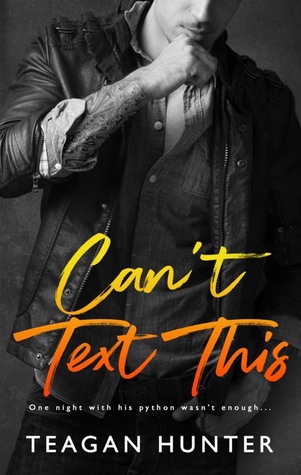 Can't Text This
Author: Teagan Hunter
Publication Date: October 11, 2018
Genre: New Adult, Contemporary Romance, Fiction
Note: This review is for an ARC and is my unbiased opinion.
Rating: ★ ★ ★ ★ ★

Synopsis:
"Hi Monty. Wanna see my python?"

That's how I ended up in the bathroom of some dive bar with a stranger.

Me, Monty Andrews, the quintessential virgin girl next door.

I was so out of my element, but there was no denying our explosive attraction, even via text.

Commence Operation Bang Each Other Out of Our Systems, because that was all it was—unfinished business.

I had no intention of falling back into the sheets with the tattooed, muscly, dirty-in-the-best-kind-of-way single dad over and over again…but I did.

Everything was going great—until we discovered I was his son's teacher.
---
Everything I've been reading lately has been intense, dark, or emotional. I had been looking for the perfect fluffy love story and hadn't been able to find the one to lighten my mood — or at least I hadn't until I picked up Can't Text This.
Can't Text This is was so much fun! Robbie and Monty couldn't be more different. He's covered in tattoos and swears. She's prim and proper. Robbie is all about textual innuendos and Monty's curious but also apprehensive. It's all fun and games until they fall for each other.
I absolutely loved everything about Can't Text This. It was so adorable! The banter, whether over text or in person, was hilarious. The things these two came up with to text and talk about made me laugh so much. Robbie and Monty were just so cute. Their relationship had ups and downs, but they weren't ones that broke me. They were ones that were easily resolved and added to the entertainment value.
Oh, I can't leave out Xavier! Robbie's relationship with his son was so sweet. I loved how he parented and how his friends had a part in Xavier's life. I also liked how Robbie's ex was dealt with. It made my heart so happy!
As you can tell from this glowing review, I really enjoyed Can't Text This. It was the perfect contemporary romance to get me out of an emotional book slump. I loved it, and I really hope Teagan Hunter will continue on with this texting series. Maybe a book for Denver? I would read that!
If you're into fun and fluffy romances, I would definitely recommend picking up Can't Text This. It's a standalone, but it has two related novels with several recurring characters. You don't have to read Let's Get Textual or I Wanna Text You Up before Can't Text This. The only reason I would recommend reading them first is so that you don't miss out on all the fun of those two books. Teagan Hunter does an amazing job hooking readers with hilarious text messages and then making them fall in love with her characters. It's fun to see the characters again in each book.
Can't Text This just went live, and it is available to read for FREE in KindleUnlimited. Check out some teasers for the book below.
Read it for FREE in KindleUnlimited!
Amazon US | Amazon UK | Amazon AU | Amazon CA
Buy it in PAPERBACK

Other standalones in this series:

Read for FREE on KindleUnlimited

Read for FREE on KindleUnlimited

AUTHOR INFORMATION:
TEAGAN HUNTER is a Missouri-raised gal, but currently lives in North Carolina with her US Marine husband, where she spends her days begging him for a cat. She survives off coffee, pizza, and sarcasm. When she's not writing, you can find her binge-watching various TV shows, especially Supernatural and One Tree Hill. She enjoys cold weather, buys more paperbacks than she'll ever read, and never says no to brownies. For more information, please visit www.teaganhunterwrites.com.
AUTHOR LINKS:
Sign up for Teagan's Newsletter