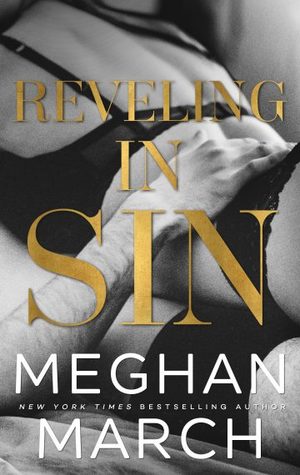 Reveling in Sin
Series: Sin, #3
Author: Meghan March
Publication Date: October 23, 2018
Publisher: Red Dress Press
Genre: Contemporary Romance, Fiction
Note: This review is for an ARC and is my unbiased opinion.
Rating: ★ ★ ★ ★
Synopsis:
Whitney Gable is the kind of woman you fight to the death to protect.
To keep.
To cherish.
I've finally learned my lesson, and it's time to prove I'm the man who's worthy of her.
I don't care what it takes, because failure is not an option.
No matter who or what stands in our way—this time, she'll be mine forever.
---
Meghan March is known for her amazing cliffhangers and jaw dropping reveals. In this final installment of the Sin series, she delivered on those reveals. If you could see my face now, you would see a look of shock and surprise. I was expecting something big to happen, but I was not expecting so many different things! The newly exposed truths and twists in the story blew my mind. I did not see most of them coming. I also didn't expect a couple cameos by some of my favorite Meghan March characters. Reveling in Sin was an exciting end to Whitney and Lincoln's saga.
A New York Times, #1 Wall Street Journal, and USA Today bestselling author of over twenty novels, Meghan March has been known to wear camo face paint and tromp around in woods wearing mud-covered boots, all while sporting a perfect manicure. She's also impulsive, easily entertained, and absolutely unapologetic about the fact that she loves to read and write smut. Her past lives include slinging auto parts, selling lingerie, making custom jewelry, and practicing corporate law. Writing books about dirty talking alpha males and the strong, sassy women who bring them to their knees is by far the most fabulous job she's ever had.
Sign up for Meghan's newsletter and receive exclusive content that she saves for her subscribers: http://meghanmarch.com/subscribe
To get the inside scoop on a daily basis, search Meghan March's Runaway Readers on Facebook and join the fun.
FACEBOOK | WEBSITE | INSTAGRAM | AMAZON AUTHOR PAGE | TWITTER | PINTEREST