When the Beautiful Hearts Duet released this past summer I wanted to read it, but I was hesitant. I know the power of Emma Scott's writing, and I was scared to feel what her words would invoke. I also knew it had a love triangle of sorts, and I hate those. In the end, I gave in and read the duet because I knew it would be good and all of the reviews were coming in with high praise.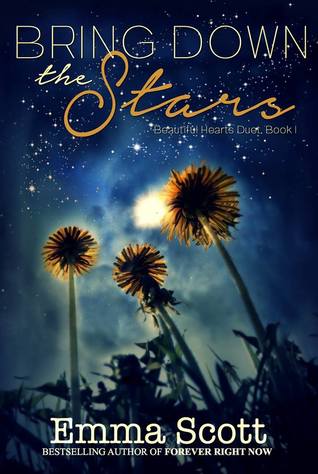 Bring Down the Stars – ★ ★ ★ ½

I have to start out by saying that the acknowledgements and dedications at the beginning of this book had me in tears. That didn't bode well for my emotions. I have to be honest and say I didn't love this book. It made me mad because of the love triangle built on lies. I was so frustrated with Weston, Connor, and Autumn while reading it. Weston made me mad because of his dedication to Connor. Connor made me mad because of his attitude about just about everything and his poor decisions. Autumn I wasn't really mad at. I was more irritated because I wondered how she could really be so blind…but then aren't we all when we're falling in love?
Overall, the writing was beautiful. The poems in this book…WOW. The emotions brought on by this book…WOW. The ending…DANG. There's no way I could take a break between books 1 and 2.
Long Live the Beautiful Hearts – ★ ★ ★ ★ ★

I don't even know that I have the words to tell you how much I loved this book. This one starts off emotional and strong. It wasn't quite what I expected, but I ended up loving the direction Emma Scott took this story. I grew to really love Autumn, Weston, and Connor. How everything worked out wasn't always easy, but it was perfect. The easy moments were almost too easy, but I didn't mind that because I felt everything come full circle. Bravo, Emma Scott. You did your readers, yourself, and your precious daughter right.