Hotshot Doc
Author: R.S. Grey
Publication Date: December 6, 2018
Genre: Contemporary Romance, New Adult, Fiction
Rating: ★ ★ ★ ★ ★
Synopsis:
Dr. Russell has a bad reputation around our hospital. The scrub techs say he's cold-blooded, the nurses say he's too cocky for his own good, and the residents say he's the best surgeon in the world—really, just a swell guy!—on the off chance he's within earshot.

I try to avoid him and his temper at all costs. It's just as easy to admire his sexy, grip-it-while-he's ravishing-you hair and chiseled jaw from a healthy distance, preferably from the other end of the hallway half-hidden behind a plant.

Unfortunately, my plan crumbles when my trusty ol' boss decides to swap his white coat for a Hawaiian shirt. His retirement leaves me with two terrible options: switch specialties and spend months retraining, or take an open position as Dr. Russell's surgical assistant.

That means I have to stand near him in the OR for hours on end and anticipate his every need without letting his biting words and bad attitude intimidate me. Oh, and as if that's not difficult enough, my silly crush on him—the one I've tried to stomp on until it disappears—might just be reciprocated.

It's fine.
I'm fine.

I take my job seriously. There will be no smoldering bedroom eyes across the operating table, no angry almost-kisses in the storage closet. (Well, no more of those.)

What's the phrase? An apple a day keeps the doctor away?
Maybe I should go for a whole damn bushel.
My thoughts:
It's been a while since I've read an R.S. Grey book, and Hotshoc Doc reminded me why I enjoy her writing. She excels in combining wit, romance, and emotion into an addictive story. Hotshoc Doc just became my new favorite of hers. There was almost an enemies to lovers vibe that created a fun push and pull between Matt and Bailey. They had great chemistry inside and outside of the operating room. I also enjoyed how both of their siblings were involved in the story. Hotshot Doc made me so happy that I am immediately picking up another R.S. Grey novel.
---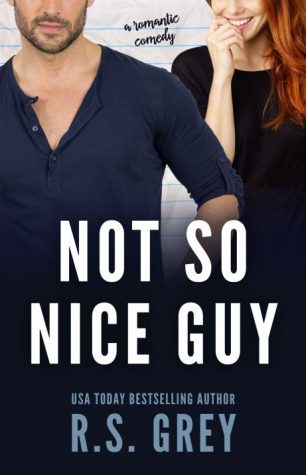 Not So Nice Guy
Author: R.S. Grey
Publication Date: August 9, 2018
Genre: Contemporary Romance, Fiction
Rating: ★ ★ ★ ★ ★
Synopsis:
"Oh my god. Who is that?"
I get asked this question a lot.
"Oh him?" I reply. "That's just Ian."

Just Ian is the biggest understatement of the century.
Just the Mona Lisa. Just the Taj Mahal. Just Ian, with his boring ol' washboard abs and dime-a-dozen dimpled smile.

Just Ian is… just my best friend.

We're extremely close, stuck so deep inside a Jim-and-Pam-style friendzone everyone at works assumes we're a couple – that is until one day, word spreads through the teacher's lounge that he's single. Fair game. Suddenly, it's open season on Ian.

He should be reveling in all the newfound attention, but to our mutual surprise, the only attention he seems to want is mine.

He's turning our formerly innocent nightly chats into x-rated phone calls. Our playful banter sports a new, dangerous edge.

I want to assume he's playing a prank on me, just pushing my buttons like always – but when Ian lifts me onto the desk in my classroom and slides his hands up my skirt, he doesn't leave a lot of room for confusion.

I'm a little scared of things going south, of losing my best friend because I can't keep my hands to myself. So, I'm just going to back away and not return this earth-shattering kiss – oh who am I kidding?!

Goodbye Ian, ol' buddy, ol' pal!

Helloooo mister not so nice guy.
My thoughts:
Not So Nice Guy might just be the cutest friends to lovers book I have read recently. It was so dang cute! Ian and Sam were these best friends who everyone assumed was together but weren't. They both secretly had crushes on each other, but neither thought the other was interested. Their journey from friends to more was so cute and funny. I couldn't get enough of it. I adored every minute I spent with this book. It made me want to continue with my R.S. Grey binge read!
---
Arrogant Devil
Author: R.S. Grey
Publication Date: May 10, 2018
Genre: Contemporary Romance, Fiction
Rating: ★ ★ ★ ★

Synopsis:
Everyone in Cedar Creek, Texas, knows Jack McNight is an arrogant devil. Physically, I get it: he's tan and fit, with coal-black hair that's clearly been scorched by hellfire. Oh, and his personality? It burns just as hot.

When I show up on the doorstep of Blue Stone Ranch, I'm run-down and rockin' my last pair of underwear. I'm hoping for a savior, but instead, I find him.

My opinion of Jack is marred by a dismal first impression, but his opinion of me is tainted even before I arrive. He's heard I'm a spoiled princess there to take advantage of his goodwill. To him, I'm more trouble than I'm worth.

Our button-pushing banter should get under my skin. His arrogance should be a major turn-off. Problem is, devils are known to offer their own form of temptation.

Every one of his steely glares sends a shiver down my spine.

Every steamy encounter leaves me reeling.

Sure, it could be the Texas heat messing with my head, but there's no way I'll survive the summer without silencing him with a kiss and wrestling him out of those Wranglers.

Who knows…going to bed with the devil might just be the salvation I've been looking for all along.
My thoughts:
Oh, boy. This one was a ton of fun. It was all about two people who started out clashing in a major way and then fell for each other. I really enjoyed it.