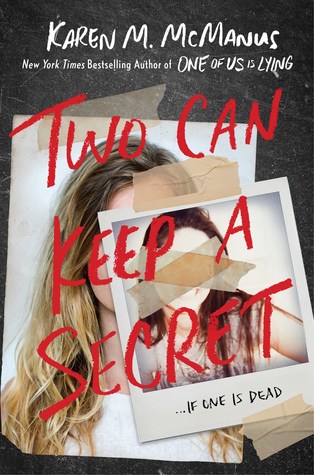 Two Can Keep a Secret
Author: Karen M. McManus
Publication Date: January 8, 2019
Publisher: Delacorte Press
Genre: Young Adult, Mystery, Fiction
Rating: ★ ★ ★ ★ ★

Synopsis:
Echo Ridge is small-town America. Ellery's never been there, but she's heard all about it. Her aunt went missing there at age seventeen. And only five years ago, a homecoming queen put the town on the map when she was killed. Now Ellery has to move there to live with a grandmother she barely knows.

The town is picture-perfect, but it's hiding secrets. And before school even begins for Ellery, someone's declared open season on homecoming, promising to make it as dangerous as it was five years ago. Then, almost as if to prove it, another girl goes missing.

Ellery knows all about secrets. Her mother has them; her grandmother does too. And the longer she's in Echo Ridge, the clearer it becomes that everyone there is hiding something. The thing is, secrets are dangerous–and most people aren't good at keeping them. Which is why in Echo Ridge, it's safest to keep your secrets to yourself.
---
Two Can Keep a Secret was one of the 2019 releases that I was most excited to get my hands on. I absolutely loved Karen M. McManus' debut novel, One of Us is Lying. I was excited to see what her second book had in store.
Karen M. McManus' writing is utterly addictive. I was sucked into the story from the minute I started reading. I loved the characters and the plot kept me guessing. I had my (correct) suspicions as to who the murderer was, but twists and turns had me all over the place. I truly had no clue where the story was headed half the time. It was so engrossing that I didn't want to put Two Can Keep a Secret down. I needed to know what was going to happen next!
I'm so happy that I loved this book. It had the same exciting mysterious feel that One of Us is Lying had, but was completely different. Karen M. McManus has now cemented her spot in my mind as one of my go-to mystery authors. This book just came out, but I can't wait to see what's next from her.