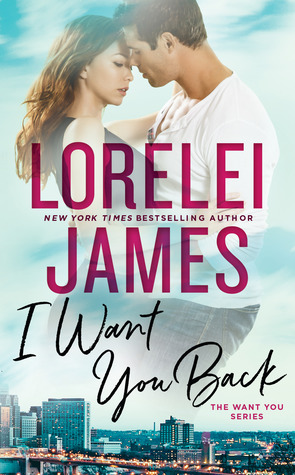 I Want You Back
Series: Need You, #5
Author: Lorelei James
Publication Date: April 2, 2019
Publisher: Berkley
Genre: Contemporary Romance, Fiction
Note: This review is for an ARC and is my unbiased opinion.
Rating: ★ ★ ★ ★
Synopsis:
New York Times bestselling author Lorelei James kicks-off her Want You Series with a Lund family cousin hot enough to melt the ice and mend a broken heart.

Former NHL star Jaxson Lund has returned to the Twin Cities, but he's at loose ends, unsure if he belongs at Lund Industries, or where he stands with Lucy, his ex-girlfriend and mother of his daughter, Mimi. Despite the signs she'd like to leave him in the penalty box, the attraction burning between them reinforces his determination to prove that he deserves a second chance…

Lucy Quade is in a good place with a steady job, a nice apartment, and a well-adjusted daughter, which is why she's hesitant when Jax insists on co-parenting. It's not that Lucy doesn't trust Jax…she's just unconvinced he can handle multiple responsibilities when he's been singularly focused on playing hockey. But when issues arise with Mimi, Lucy's shocked at how levelheaded and paternal he acts, giving her a glimpse of the Jax she used to know, the sexy, sweet man she fell for years ago.

Once Lucy lets her guard down, Jax goes all in to show her how good they are together, but will their past remain too large an obstacle to ever overcome?
---
If you have read the Need You series like I have, you have probably been curious about Jaxson Lund and Lucy Quade's relationship. Well, we are finally getting their book!
I Want You Back is a second chance romance. Jaxson Lund has retired from hockey. He's determined to turn his life around. He is no longer the alcoholic womanizer he used to be. Jaxson has come to recognize what a horrible boyfriend, father, and person he was while he drank. He wants to make that up to the two most important people: his daughter and her mother. Lucy is not sure what to make of the changes in Jaxson. He's trying so hard to be a father to her daughter. She loves what she sees, but she's not sure she can ever trust him enough to let him back in completely.
I went back and forth on what to rate this book. I enjoyed reading it, but it was a little slow at times. I guess that might not have bugged me if I wasn't expecting a slow burn romance, but I wasn't with the chemistry these two had. I also wasn't a huge fan of the flashbacks of Lucy and Jaxson's prior relationship. I think it was because it was only the good times and none of the bad? I liked getting to know how they fell in love, but I also wanted to know more about how they fell apart. It was also a little jarring to go from present to past and back in this book for some reason. I'm not sure why.
What I did love was the way Jaxson worked to show Lucy that he was back for good and in all the ways that mattered. I loved the way they worked through the hard parts of co-parenting. I loved how Lorelei James dealt with Jaxson's issues with alcoholism, infidelity, and safe sex. That whole mixture really surprised me. I have never read a romance that touched on those topics all together. It made me think it should in more books. I wish more time would have spent on it in this book even though I thought it was well done.
Oh! I can't leave out that I liked that Lucy wasn't perfect either. She may have been wronged by Jaxson, but she had some issues of her own. I loved that Jaxson didn't let those things slide, and that they worked together to both make changes.
Obviously, this book had a couple of ups and downs for me, but over all was a great read.