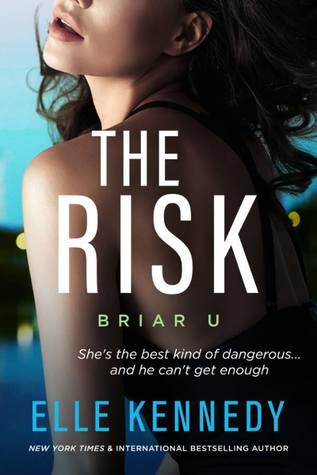 The Risk
Series: Briar U, #2
Author: Elle Kennedy
Publication Date: February 18, 2019
Publisher: Elle Kennedy Inc.
Genre: New Adult, Contemporary Romance, Sports
Note: This review is for an ARC and is my unbiased opinion.
Rating: ★ ★ ★ ★ ★
Synopsis:
Everyone says I'm a bad girl. They're only partly right—I don't let fear rule me, and I certainly don't care what people think. But I draw the line at sleeping with the enemy. As the daughter of Briar's head hockey coach, I'd be vilified if I hooked up with a player from a rival team.

And that's who Jake Connelly is. Harvard's star forward is arrogant, annoying, and too attractive for his own good. But fate is cruel—I require his help to secure a much-coveted internship, and the sexy jerk isn't making it easy for me.

I need Connelly to be my fake boyfriend.

For every fake date…he wants a real one.

Which means this bad girl is in big trouble. Nothing good can come from sneaking around with Jake Connelly. My father would kill me, my friends will revolt, and my post-college career is on the line. But while it's getting harder and harder to resist Jake's oozing sex appeal and cocky grin, I refuse to fall for him.

That's the one risk I'm not willing to take.
---
I FREAKING LOVED The Risk SO HARD! When I love a book as much as I loved this one, it's a little tough to write a review without giving away spoilers. In order to keep from blowing anything for you, I'm going to be diving my review into categories.
The writing: Elle Kennedy's Briar University is my book happy place. From the moment the story begins to the very end, I'm addicted. Some series and setting start to feel redundant after so many books, but the Off-Campus and now Briar U series don't. There's always a new character or entertaining situation to freshen and liven things up.
The characters: I knew I loved Brenna from the moment I met her in The Chase. I was so excited she was getting her own book. She was sassy and self-confident. The Risk showcased those things, but it also brought out a softer side of her. I loved how this book delved into her past and showed how she became the strong, independent woman she is.
Jake Connelly wasn't someone I necessarily loved in The Chase (or in the small mentions in the Off-Campus series). His ego left something to be desired. I was very surprised to find myself loving him in The Risk. He was confident and cocky, but that matched well with Brenna because she could give it right back to him. Jake also had a secret soft side that I adored.
The relationship: Brenna + Jake = the most deliciously witty banter.
I have to admit, I wasn't sure who I wanted Brenna's suitor to be. She had some moments with both Hollis and Connelly in that first book that made think it could either way. I'm incredibly happy Elle Kennedy went with Jake. These two characters had an incredibly fun chemistry. It didn't make whether they were being mean to each other, joking around, or canoodling — sparks were constantly flying.
The plot: I loved the whole one fake date for a real date thing. There was way more to this story, though. Things got a lot deeper than just a fake relationship. Brenna had some history that she had to deal with. Jake had a future to worry about. There were big things along their journey together. I loved the way they worked through them.
The people around them: One of the best things about this series of books is the friends! There's always a great group of buds to bring more entertainment to the story. Summer, Fitzy, Hunter, and Hollis were back to make things crazy at Briar. Brooks, McCarthy, and a whole other group of players at Harvard were there to support Jake. There was also a new character added to the mix that I couldn't get enough of: Rupi. There could be a whole paragraph dedicated to my love for Rupi, but I'll keep it short and just say Rupi needs an entire book. Rupi better get her a book…
I also can't leave out Brenna's dad, Coach Jensen. I really loved how this book dealt with Brenna's relationship with him. Jake's parents were also present, which was fun. It's not often you get one let alone two sets of parents in a new adult book.
Final thoughts: It's always a little scary reading a book in a series you love from an author whose writing you love. There's always that what if I don't like it thought in the back of your head. I didn't have to worry about that at all with The Risk. I absolutely loved every minute of this book! No one from Briar has been able to match my love for Garrett and Hannah from The Deal, but Brenna and Jake are right up there with them. That's a high honor.
Now I need books for Hollis, Hunter, Rupi, Brooks…I could go on and on. Just give me a book for all of the characters. Seriously. I need them like now.