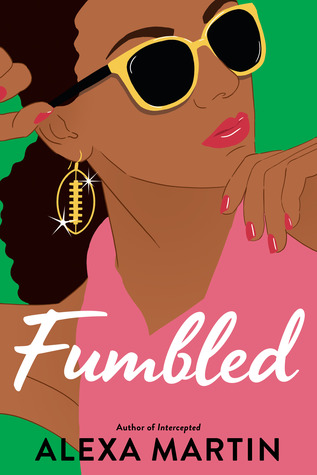 Fumbled
Series: Playbook, #2
Author: Alexa Martin
Publisher: Berkley
Publication Date: April 23, 2019
Genre: Contemporary Romance, Sports, Fiction
Note: This review is for an ARC and is my unbiased opinion.
Rating: ★ ★ ★ ★ ½

Synopsis:
A second chance doesn't guarantee a touchdown in this new contemporary romance from the author of Intercepted.

Single-mother Poppy Patterson moved across the country when she was sixteen and pregnant to find a new normal. After years of hard work, she's built a life she loves. It may include a job at a nightclub, weekend soccer games, and more stretch marks than she anticipated, but it's all hers, and nobody can take that away. Well, except for one person.

TK Moore, the starting wide receiver for the Denver Mustangs, dreamt his entire life about being in the NFL. His world is football, parties, and women. Maybe at one point he thought his future would play out with his high school sweetheart by his side, but Poppy is long gone and he's moved on.

When Poppy and TK cross paths in the most unlikely of places, emotions they've suppressed for years come rushing back. But with all the secrets they never told each other lying between them, they'll need more than a dating playbook to help them navigate their relationship.
---
Alexa Martin's début novel, Intercepted, was one of my favorite books of 2018. I was very impressed with her writing and story telling abilities. Her characters and their story was so much fun. I have been eagerly awaiting her next book from the moment I finished the first one. I'm happy to report that Fumbled was just as good as Intercepted — if not even better!!! That crazy because of how amazing Intercepted was.
Fumbled is the story of a single mother (Poppy) who is trying to make ends meat as a waitress at cabaret club. One night, her table contains the last man she ever wants to see again. TK is a famous football player and the father of her child — a child he didn't want. Poppy wants nothing to do with TK, but he feels the exact opposite. Poppy has a hard time fighting her feelings for TK, and knows it's only time before she has to tell TK about the son they share.
This book had my attention from the get go. Poppy was such a fun character. I loved how strong and resilient she was. Poppy made the best out of the hand she was dealt and didn't complain. Her emotions were real and raw. I would have felt the same way she did. I could totally identify with how she put her son first.
As for Poppy's relationship with TK, it was filled with some great ups and downs. They not only had to navigate getting to know each other all over again, they had to learn to trust again. Add in learning to share a child, and there was a lot going on for them. I found their second chance romance very cute. I did wish a couple of times that I had TK's point of view. It would have been nice to know what he was thinking sometimes.
In case you have read Intercepted, I feel the need to point out that there were not any hashtags in this book. (There were a plethora in that one and they drove me nuts after a while.) There was only one small thing that bothered me with this book. I don't know if it's just a me thing or if others will make more notice of it with the foreshadowing. One of the big problems towards the end surprised me a bit. Like I said, it was foreshadowed, but I think it didn't hit as hard for me because I didn't get to know these characters before present day. I think if I had some previous knowledge of personality I might have felt a little more invested in this part of the story. Sorry to be vague. I don't want to give it away.
Overall, I adored Fumbled. It was one of those reads that made me not want to put the book down. I'm happy to have read it, but sad that I have to wait for the third book in this series.