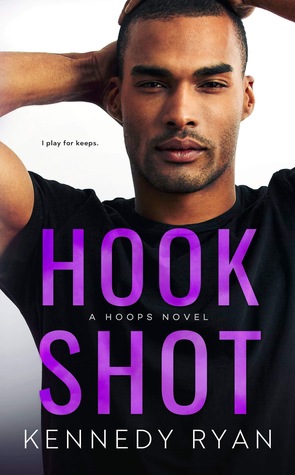 Hook Shot
Series: Hoops, #3
Author: Kennedy Ryan
Publication Date: March 2, 2019
Genre: Contemporary Romance
Note: This review is for an ARC and is my unbiased opinion.
Rating: ★ ★ ★ ★ ½

Synopsis:
A deeply emotional standalone romance set in the worlds of professional basketball and high fashion.

Divorced. Single dad. Traded to a losing squad.
Cheated on, betrayed, exposed.
My perfect life blew up in my face and I'm still picking up the pieces.
The last thing I need is her.
A wildflower. A storm. A woman I can't resist.
Lotus DuPree is a kick to my gut and a wrench in my plans
from the moment our eyes meet.
I promised myself I wouldn't trust a woman again,
but I've never wanted anyone the way I want Lo.
She's not the plan I made, but she's the risk I have to take.

A warrior. A baller. The one they call Gladiator.
Kenan Ross charged into my life smelling all good, looking even better and snatching my breath from the moment we met.
The last thing I need is him.
I'm working on me. Facing my pain and conquering my demons.
I've seen what trusting a man gets you.
I. Don't. Have. Time. For. This.
But he just keeps coming for me.
Keeps knocking down my defenses and stealing my excuses
one by one.
He never gives up, and now…I'm not sure I want him to.
---
I adore Kennedy Ryan's writing, but I have to admit I am always a little nervous to pick up one of her books. I know from experience that my heart and mind are going to be slayed by what I read. I also know that I'm going to love whatever story and lesson Ms. Ryan is dealing out.
Hook Shot was rollercoaster of emotional ups and downs. I think the author was trying to give me a heart attack at times. She took these two amazing characters and threw them into some gorgeous and some troubling situations. There were moments when I wanted to cry from both happiness and sadness. There were moments I was shocked by the twists thrown my way. Ms. Ryan put so much heart and soul into this book. She made Hook Shot is my favorite book in this series
Lotus was as magical as I hoped she would be. I didn't always love her in the previous HOOPS novels, but I think I was just missing some pieces. I knew Lotus' story, but didn't know everything. Her past was devastating and shaped her in important ways. Lotus' past gave her this hard exterior that I loved seeing Kenan crack. Inside, she had this softness that was beautiful.
What I liked most about Kenan was that he could have been a real person. He wasn't perfect, but he was a guy who strove to be the best person he could be. I loved how he approached situations with caution and wanted to do good to those closest to him. I loved his relationship with his teenage daughter, Simone. Their relationship wasn't smooth sailing, but I liked how Kenan's reactions proved the type of person he was. I also liked that Kenan didn't let his basketball fame change him. He was just really cool, a good partner, and a good dad.
Kenan and Lotus together — GAH! That chemistry was so dang hot! They got each other on this basic level that made them connect in the coolest way. I don't even know how to describe them except for that they were made for each other. They were undeniable soul mates. It was so, so beautiful the way they supported each other in all of the ups and downs that orchestrated by their creator. I just loved them together.
One of the things I loved and hated about this book was Kenan's ex-wife, Bridget. Grrr… She was a great character, but that woman made me so mad! She hurt everyone around her to try to get what she wanted. Her point of view wasn't necessary, but I wish it would have been included in a couple of places. I would have liked to have been in her mind to know what was driving her decisions. I don't feel like I ever got the answer on some of her whys.
Hook Shot was an outstanding read by one of my favorite authors. No one does relationships and drama like Kennedy Ryan. The heart she gives her characters and their stories is something to be experienced. She had some wonderful surprises in store for her readers with this book.
Hook Shot, a deeply emotional standalone set in the worlds of professional basketball and high fashion from Kennedy Ryan, is available now and FREE in Kindle Unlimited!
Download your copy today or read FREE in Kindle Unlimited!
Amazon: https://amzn.to/2FA9vk6
Amazon Worldwide: http://mybook.to/HookShot
Amazon Paperback: https://amzn.to/2TBWk7r
Add to GoodReads: http://bit.ly/2RQ7p81
Audiobook Alert: http://bit.ly/2UyzQFI
Audiobook Release: April 30th
Start the HOOPS series with LONG SHOT today for only 99¢!
Amazon: https://amzn.to/2Wvet8T
Amazon Worldwide: http://mybook.to/LongShotKR
BLOCK SHOT: https://amzn.to/2Up5N2N
HOOPS Holiday: http://bit.ly/2RVlcef
Enter the Release Giveaway for a $50 Gift Card +Signed HOOK SHOT Paperback here:
https://www.facebook.com/KennedyRyanAuthor/
About Kennedy
A Top 25 Amazon Bestseller, Kennedy Ryan writes about women from all walks of life, empowering them and placing them firmly at the center of each story and in charge of their own destinies. Her heroes respect, cherish and lose their minds for the women who capture their hearts. She is a wife to her lifetime lover and mother to an extraordinary son. She has always leveraged her journalism background to write for charity and non-profit organizations, but enjoys writing to raise Autism awareness most. A contributor for Modern Mom Magazine and Frolic, Kennedy's writings have appeared in Chicken Soup for the Soul, USA Today and many others. The founder and executive director of a foundation serving Atlanta Autism families, she has appeared on Headline News, Montel Williams, NPR and other media outlets as an advocate for families living with autism.
Connect with Kennedy
Never Miss A Release! Follow Kennedy on BookBub: http://bit.ly/2HcRuee
New Release Txt: https://clk2.me/mgFv
Subscribe to Mailing List: http://bit.ly/2QjisCW
Reader Group: http://bit.ly/2GY6eyb
Instagram: http://bit.ly/2TaYiAi
Facebook: http://bit.ly/2GUq0uF
Amazon: http://amzn.to/2Fvhqiz
Pinterest: http://bit.ly/2NE0cU0
Book+Main: http://bit.ly/2GVByO7
Website: http://kennedyryanwrites.com