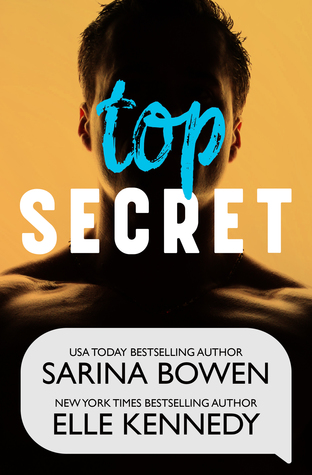 Top Secret
Authors: Sarina Bowen, Elle Kennedy
Publication Date: May 5, 2019
Genre: New Adult, Contemporary Romance, LGBTQ+
Note: This review is for an ARC and is my unbiased opinion.
Rating: ★ ★ ★ ★ ½

Synopsis:
LobsterShorts, 21
Jock. Secretly a science geek. Hot AF.

LobsterShorts: So. Here goes. For her birthday, my girlfriend wants…a threesome.

SinnerThree: Then you've come to the right hookup app.

LobsterShorts: Have you done this sort of thing before? With another guy?

SinnerThree: All the time. I'm an equal opportunity player. You?

LobsterShorts: [crickets!]

SinnerThree, 21
Finance major. Secretly a male dancer. Hot AF.

SinnerThree: Well, I'm down if you are. My life is kind of a mess right now. School, work, family stress. Oh, and I live next door to the most annoying dude in the world. I need the distraction. Are you sure you want this?

LobsterShorts: I might want it a little more than I'm willing to admit.

SinnerThree: Hey, nothing wrong with pushing your boundaries…

LobsterShorts: Tell that to my control-freak father. Anyway. What if this threesome is awkward?

SinnerThree: Then it's awkward. It's not like we'll ever have to see each other again. Right? Just promise you won't fall in love with me.

LobsterShorts: Now wouldn't that be life-changing…

Q&A about Top Secret:

Q: Have we met these characters before in another book?
A: No! These guys are brand new, and we can't wait for you to meet them.

Q: Is this story MM? Or is it a MMF / MFM / menage?
A: This book is MM.

Q: Is this a love triangle story?
A: Not really. You'll see.
---
Top Secret his to be the BEST secret release of the year! I mean, who names a secret release Top Secret? That's so incredibly smart! Everyone has been begging Sarina Bowen and Elle Kennedy to give us another book together and I'm shocked they delivered! (Only because they kept saying they weren't going to be writing together.) WOOHOO!!!
I hate to admit it, but I did not read the blurb before starting Top Secret. I knew it was a M/M romance, but that was about it. I had no idea there was this whole threesome plot going on. When I got to that part in the beginning, I have to say it made me stop, cringe, and wonder how messy things were going to get. I'm not really a fan of love triangles, so… I just had to put my faith in my favorite collaborators' hands. I'm so happy I did because Top Secret was an incredibly fun read.
As you can tell by the blurb, LobsterShorts and SinnerThree meet in a chat room where LobsterShorts is trying to set up a threesome at his girlfriend's request. I absolutely loved the banter that went on in the messages they exchanged. The messages were witty, but they also had depth to them. These two guys got to know each other in an emotionally intimate way prior to meeting, so that the emotional connection was there first. This was really important to the characters and the story…
And that's all you are getting about the plot. I refuse to give anything away! What I will say is that if you're a fan of Him and Us, you are going to be a fan of this book. The combination of Sarina Bowen and Elle Kennedy's writing is magic. They know how to combine humor with emotion in the best way. There are a ton of great surprises and characters you're going to love in Top Secret. I didn't want this book to end. I adored LobsterShorts and ThreeSinners. I'm so happy Sarina Bowen and Elle Kennedy graced us with a new book. (Is it too early to beg for another?)