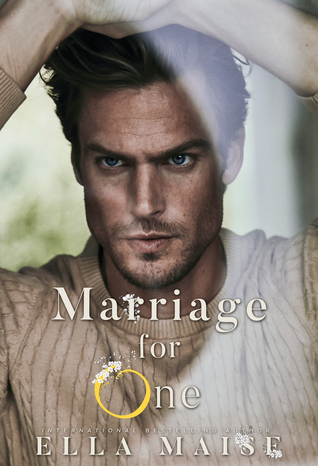 Marriage for One
Author: Ella Maise
Publication Date: May 9, 2019
Genre: Contemporary Romance
Rating: ★ ★ ★ ★ ½
Synopsis:
Jack and I, we did everything backward. The day he lured me into his office-which was also the first day we met-he proposed. You'd think a guy who looked like him-a bit cold maybe, but still striking and very unattainable-would only ask the love of his life to marry him, right? You'd think he must be madly in love.

Nope. It was me he asked. A complete stranger who had never even heard of him. A stranger who had been dumped by her fiancé only weeks before. You'd think I'd laugh in his face, call him insane-and a few other names-then walk away as quickly as possible. Well…I did all those things except the walking away part.

It took him only minutes to talk me into a business deal…erm, I mean marriage, and only days for us to officially tie the knot. Happiest day of my life. Magical. Pop the champagne… Not. It was the worst day. Jack Hawthorne was nothing like what I'd imagined for myself.
I blamed him for my lapse in judgment. I blamed his eyes, the ocean blue eyes that looked straight into mine unapologetically, and that frown on his face I had no idea I would become so fascinated with in time.

It wasn't long after he said I was the biggest mistake of his life that things started to change. No, he still didn't talk much, but anyone can string a few words together. His actions spoke the loudest to me. And day after day my heart started to get a mind of its own.

One second he was no one. The next he became everything.
One second he was unattainable. The next he seemed to be completely mine.
One second I thought we were in love. The next it was still nothing but a lie.

After all, I was Rose and he was Jack. We were doomed from the very beginning with those names. Did you expect anything else?
---
I'm a little speechless when it comes to Marriage for One. Or maybe a better way to say it is overwhelmed? I don't know. I'm still wrapping my head around everything that went down. There was a lot. Marriage for One was a long book with a lot of little plot twists. It wasn't what I expected at all. It wasn't like any of the books I have read by Ella Maise. That's not a bad thing. I feel like I can see how her writing is evolving, her craft getting stronger and maturing. What surprised me about this book was somber tone throughout the story. There were a lot of ups and downs, but things felt surprisingly even and sullen throughout the book. It's really hard to explain, but it wasn't a bad thing. I liked it.
Another thing that surprised me was I felt like I could never quite get a handle on what was truly going on — things were constantly changing or something would happen that would throw me off. It happened the most from Jack's side. He was kind of a mystery. Which is weird to say because he had his own point of view. Ella Maise was just really good at keeping me slightly hanging and guessing as to what Jack's true intentions were. That was rather perfect with Jack's intensely quiet personality. I think Jack was supposed to be a hard character to love, but (much like Rose) I was drawn to him from the start. I think I was just as surprised by his care and concern as Rose was.
Rose was more forthcoming with her intentions and truths, but she was also very good at ignoring things. I was surprised by some of the things that happened to her even when I could see them coming. I really loved how her feelings for Jack changed and shifted throughout the book based on how he acted or what happened. I felt like I was with her trying to guess what his every action or reaction meant.
Jack and Rose's relationship was bumpy and filled with uncertainty until it wasn't…but then it was again. It was so complex and I was obsessed with it. I am not doing a good job of getting my thoughts across, but I loved them together. They were so different, yet they complimented each other so well.
I'm just going to leave things like this: Marriage for One is a book you have to experience for yourself. It's a slow burn romance that navigates some strange times, some infuriating times, some tragic times, and some incredibly sweet times. It's filled with emotion that consumes you. I really loved reading it, even if I made a mess out of trying to explain how I felt about it.