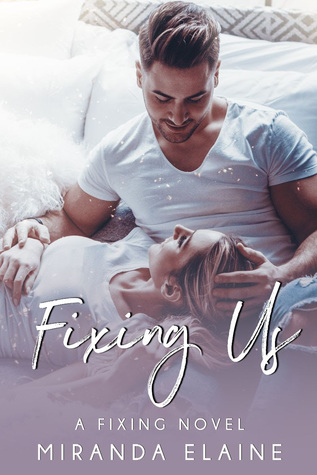 Fixing Us
Series: Fixing, #3
Author: Miranda Elaine
Publication Date: May 16, 2019
Genre: Contemporary Romance
Note: This review is for an ARC and is my unbiased opinion.
Rating: ★ ★ ★ ★ ★
Synopsis:
Gabriel Starr is the love of my life, even if he breaks my heart time and time again.

Like a fool, I keep going back, so I've made a promise to myself—one final night and then I'm done.

One night of passion.
No pressure. Most importantly, no future.

One month later, a positive pregnancy test tells me different.

Our only option is to raise this baby as friends, but how can we make it work when we can't even keep our hands off each other?

We finally have the chance to be the family we never imagined we could be.
But first we need to focus on Fixing Us.
---
Fixing Us is the third book in the Fixing series by Miranda Elaine, but it's the first book I have read by this author. What originally drew my attention and made me want to read Fixing Us was the blurb. I was very interested how things were going to work out for high school sweethearts turned exes turned hook ups to have a baby together and, of course, fall back in love. As you can tell by my 5 star rating, it worked out well for them and me.
Leigh Ann and Gabe were high school sweethearts until Gabe ruined their plans for a life together after graduation. Despite their breakup, Leigh Ann and Gabe have had a hard time staying away from each other — it's a small town and all that. They have never been able to work out their differences, but that doesn't stop them from hooking up when the need arises. That is what has finally got them into trouble 10+ years after high school. One night of passion has turned into an unplanned pregnancy. It's life changing for both Leigh Ann and Gabe, but in different ways. Leigh Ann was ready to move on. Now she's tied to Gabe for at least 18 years. Gabe never planned to have a family. Now he has to come to terms with the fact that he will. Leigh and Gabe have a lot to figure out in the 9 months before their baby is born.
I was fascinated by Leigh Ann and Gabe's relationship. It had this air of sadness. It was easy to tell they both truly loved each other, but they had different ideas and plans for life. I felt bad that Gabe thought about himself the way he did, but I also applauded him for trying to do what he thought was right. I loved the moments where he learned and grew. Leigh Ann I just felt horrible for. That woman was trapped by her love for Gabe. I could empathize with her about trying to move on. Despite what he said or did at times, Gabe didn't really allow for it. That didn't mean that Leigh Ann didn't have strength. She was an incredibly strong, smart woman. I was actually impressed by the way she handled everything — especially her unplanned pregnancy. Leigh Ann and Gabe were just in this weird, uncomfortable non-relationship that was complicated even more by the pregnancy. It all felt true to a real life relationship and situation. I loved how their relationship evolved and how everything worked out in the end.
I was super impressed with Fixing Us. This is Miranda Elaine's third book, but her writing feels more seasoned than that. She made each of her characters shine with their distinctive voices. The story moved smoothly and kept me enthralled. The biggest compliment I can give this book is that it made me feel everything the characters were feeling. When a book can do that, I'm impressed. I will definitely be going back and reading the first two books in this series. I am excited to learn more about those characters.
If you're interested in reading Fixing Us, it can be read as a standalone novel. Characters from the previous books show up, but I wasn't confused by that. This book had a story of its own.