Welcome to Top Ten Tuesday!

Top Ten Tuesday is an original weekly feature created by The Broke and the Bookish and is now hosted by That Artsy Reader Girl. This week's is Characters That Remind Me of My TEENAGE self. I have to do teenage because I don't read about a lot of characters who remind me of myself now. That's one purpose. Reading is an escape. 😉
---
1. Bella Swan in New Moon
I know, I know. Bella? In New Moon? While most people weren't a fan of this Twilight Saga book, I was. My teenage self identified with how Bella processed heartbreak and her feelings. As a teenager I had times where I was depressed over a relationship ending like Bella was. I thought Meyer did an excellent job portraying this.
2. Alexa in Calm Like Home
Alexa reminded me a lot of myself in college. I remember having felt so many of the emotions she did and all the ups and downs of being an adult but not really being an adult yet.
3. Emmaline in In Your Dreams
In Your Dreams came to mind because I knew someone exactly like the personal trainer chick that drove Emmaline nuts. I feel like Kristan Higgins based her on that person and how I felt around them. That's why I picked Emmaline.
4. Tate in Ugly Love
I think I know why so many readers love this book. It's easy to identify with. Who hasn't been in some sort of relationship where they want things to be more while the other person doesn't? I hate to admit that I put myself in this situation when I was much younger.  I definitely was Tate in some moments. Sadly, most of people never get the ending Tate did. (Hence why people love this so much.)
5. Bianca in The DUFF
I mean, who hasn't felt like Bianca in The DUFF? I know I had many times where I felt like the unnoticed and uncool friend. I also remember going to 18 and over dance clubs like Bianca and her friends did.
6. Sam in the Fallen Crest High series
Sam and her running to escape her thoughts. I did that A LOT in my late teens and early 20's. I was running to exhaust my mind and body. It worked, but makes me sad to think about now.
7. Tenley in Cupcakes and Ink
Tenley went to college away from home for a fresh start. Our reasons weren't the same, but I could identify with this. I moved from WA to AZ for college because I needed something new and different.
8. Scarlett in Jock Row
I am the sensible one like Scarlett was. I was and am the designated driver, the one who is always trying to keep people out of trouble. I'm the nice one. I could relate to Scarlett in this way. I also related to the romance in the book. It reminded me of when I met my husband and our relationship in ways. Things were low drama, easy, and healthy.
9. Far From the Tree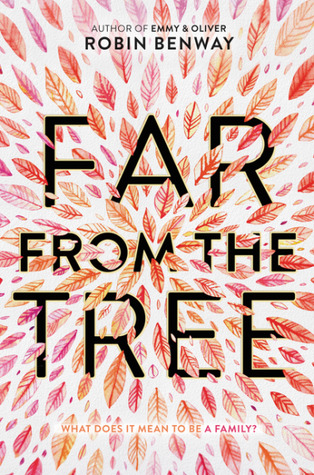 I didn't pick just one character because I could identify with all of the 3 main characters a some point in the story. I was adopted as a baby, so I could just identify with some of the feelings that went on in this book in my teenage year, as a young adult, and even now.
10. Molly in The Upside of Unrequited
Molly is a girl who lets her weight define her. She feels like she's always in the background. She's always the sidekick, never the one the attention is on. Guys don't like her, they like her friends. This was totally me in high school. I've also felt the way Molly felt about her sister trying to hook her up with Will. I remember my best friend always being in a relationship. She would try to push her boyfriend's friends at me. It was exciting, but also uncomfortable. No one wants to be forced on a guy (or girl) just because your best friend is dating theirs. It rarely works out and is so awkward.
This was a weird post to write. I don't feel like it's particularly positive and I don't like that. I wish I had recently read some books with amazing mothers of only child daughters or 30-something happily married people so I could compare them to my life now. LOL. I guess I just like to read books about people young and experiencing new things. 😉