The Player Next Door
Author: K.A. Tucker
Publication Date: June 14, 2020
Genre: Contemporary Romance
Note: This review is for an ARC and is my unbiased opinion.
Rating: ★ ★ ★ ★
Synopsis:
From the international bestselling author of The Simple Wild and Ten Tiny Breaths comes a new second-chance, hate-to-love romance.
Scarlet Reed has returned to Polson Falls, convinced that twelve years away is long enough to shed her humiliating childhood identity as the town harlot's daughter. With a teaching job secured and an adorable fixer-upper to call home, things in her life are finally looking up.
That is, until she finds out that Shane Beckett lives next door.
Shane Beckett, the handsome and charismatic high school star quarterback who smashed her heart. The lying, cheating player who was supposed to be long gone, living the pro football dream and fooling women into thinking he's Prince Charming. Shane Beckett, who is as attractive as ever and flashing his dimples at her as if he has done no wrong.
Scarlet makes it abundantly clear that old wounds have not been forgotten. Neighbors they may be, but friends they most certainly are not. She won't allow herself to fall for the single father and firefighter again, no matter how many apologies he offers, how many times he rushes to her aid, or how hard he makes her heart pound.
But as she spends more time with him, she begins to fear that maybe she's wrong. Maybe Shane has changed.
And maybe this time she's the one playing herself—out of a chance at true happiness.
---
The Player Next Door was a fun escape. It was a cute second chance romance. Scarlett was heartbroken after Shane broke up with her in high school. Now, years later, she's back living in her hometown living next door to him. He's determined to win her back, and Scarlett is determined to stay away from him. That doesn't last long, and Scarlett discovers the feelings she had in high school might not be as far behind her as she thought.
I loved how lighthearted this book felt compared to some other of Tucker's books.  The sweetness of Scarlett and Shane's takes center stage. Their romance felt fun and natural. There was some deep stuff going on at times, but it never felt like too much. It also helped that there were so humorous moments with Scarlett's friends. It was exactly what I needed in these heavy times. I'm hoping Tucker will make this a series and give Justine a book. I would LOVE to see her with Dean!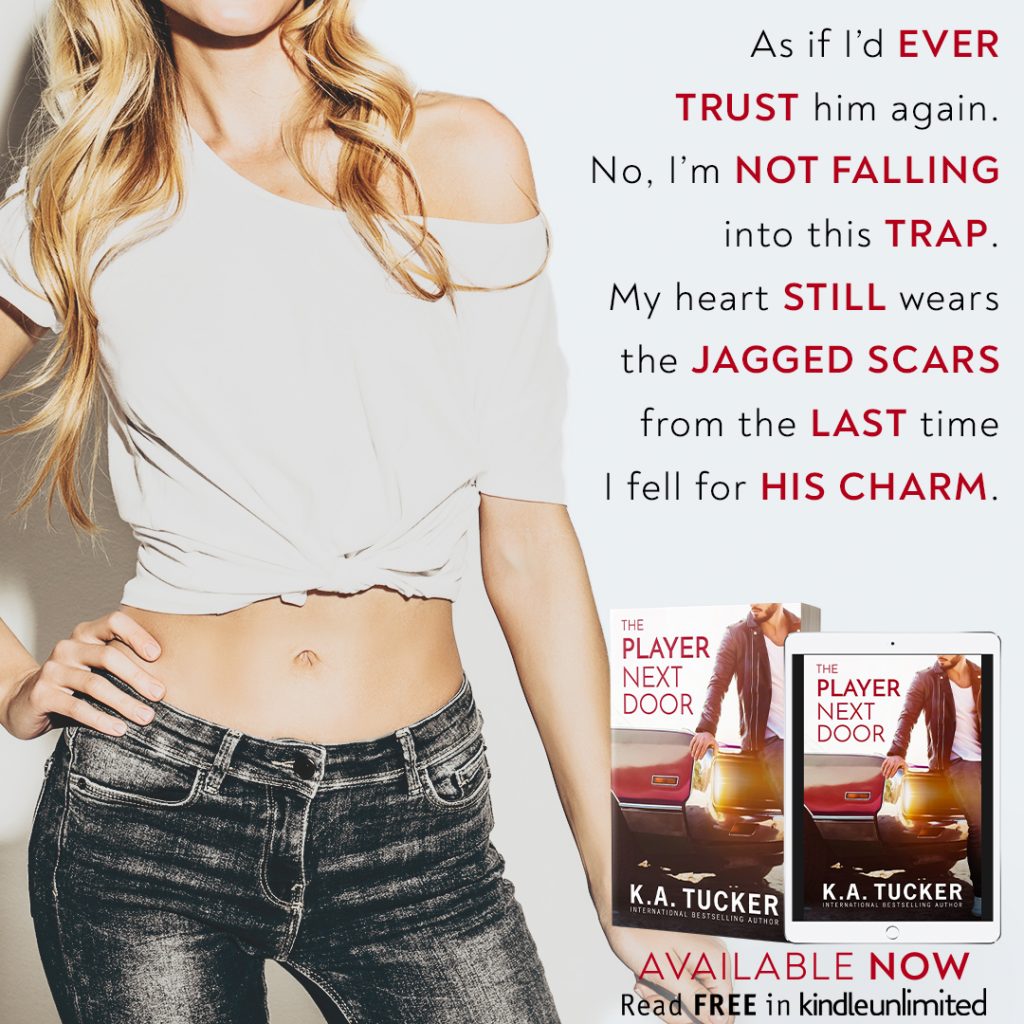 Download today or read for free in Kindle Unlimited!
Amazon: https://amzn.to/2B2QTuD
Amazon Worldwide: http://mybook.to/ThePlayerNextDoorKAT
Goodreads: https://bit.ly/2YJOXRC