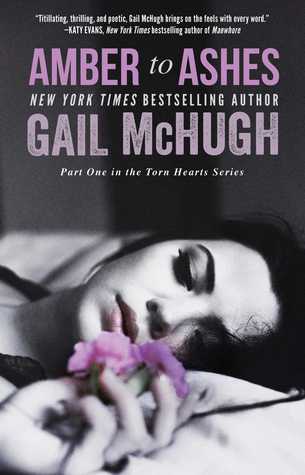 Amber to Ashes (Torn Hearts #1) by Gail McHugh
Publication Date: June 9, 2015
Publisher: Atria Books
Synopsis: 
Amber Moretti made it through a tough childhood, one horrible moment defining her entire existence. Now, thanks to her amazing foster parents, Amber's starting college and getting a chance to start her life over. No one there will know about her past. Nor will they know how she used to escape from the memories that still haunt her.
But just as one moment defined her childhood, another moment will define her life now. When Amber walked into the college dining hall, she never expected to meet and connect deeply with one man, let alone two. She's always kept herself emotionally unavailable to men, but she can't help but need both of them now.
Brock Cunningham and Ryder Ashcroft may be completely different in looks and attitude, but they both want Amber in the same intense way. Brock is the hunky football player that every girl wants. Amber can't help but be attracted to his slick words and the way he wants to be everything she needs. Ryder is Brock's opposite. He's tough, tattooed and pierced. His every word disgusts Amber….until he kisses her. Then, she feels powerless to his touch.
Quickly, Amber finds herself falling for these two men. She knows she can't possibly be in love with each of them, but she finds it harder and harder to fight her feelings for them. Amber knows she'll be forced to choose to between Brock and Ryder, but she has no idea what would lead up to her decision.
My rating: 4 out of 5 stars
Um….Wow. I'm not quite sure what my reaction should be after reading Amber to Ashes. This book was so gritty, dirty and all sorts of messed up…but I think I liked it. It's hard to say because, while I was really disturbed by most of the story, I couldn't put the book down. It was crazy. Every time I thought the story couldn't get any more disturbing, it did.
I wanted to know how everything was going to play out for Amber and her need for both Brock and Ryder. Each character was so messed up with their own issues that all together they were just one gigantic disaster waiting to happen. I couldn't see how this could end positively for any of them.
I really liked how most of the book was in Amber's POV, but that I also got a sprinkling of Brock and Ryder's as well. That really helped shape their relationships with each other — especially Brock and Ryder's relationship. Which was a good thing, considering how Amber felt about both of them.
My least favorite parts of the book were the violent ones because I'm just not into violence. BUT I will admit the violent parts were a good addition to the storyline. They made this more than just a love triangle story.
The ending, though. The ending killed me! What a cliffhanger! I'll definitely be reading the next book because I have to know what happens.
If you're interested in reading this book, I'd just warn you ahead of time to be prepared for a lot of sexually explicit encounters (one F/M/M), violence, and drug use. The story will suck you in and then twist and turn in ways you aren't expecting. It's an entertaining read, but in it gets messier and messier the deeper into the book you go. It's definitely not for someone expecting a HEA filled with sunshine, rainbows or unicorns.
Thank you to Atria Books for the opportunity to read and honestly review Amber to Ashes.