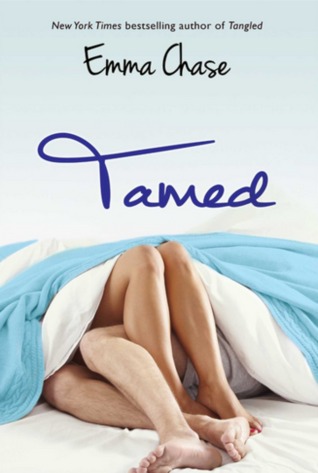 Tamed (The Tangled Series #3) by Emma Chase
Publication Date: July 15, 2014
Publisher: Gallery Books
Synopsis:
Matthew is a player, but he's an honest player. He has no problem letting the women he hooks up with know he's not interested in more than one night. Well, at least he wasn't until he met Dee. Dee blew his mind and Matthew wants more than one night with her. Convincing Dee is a lot harder than it sounds, though. Dee's dealt with her fair share of jerks and isn't so sure more than one night with Matthew is a good idea. But when phenomenal sex is at stake, Matthew can be pretty persuasive.
My rating: 5 out of 5 stars
Tamed was one of the books I picked up on my trip to Portland's Powell's City of Books last weekend. I was drawn to it first by it's cute cover. When I skimmed the description it sounded like a fun read.
It was totally a fun read. Tamed is written completely in Matthew's POV and instead of just being what he's thinking as he's going through the story, he's actually telling you the story. His take on relationships and the dating tips on men he hands out made me crack up. It felt like I was being told a story by a male friend.
I really liked Matthew. He was a self-confessed player, but he was also so much more than that. I loved his relationships with his friends and family. Dee was a cool character I would want to be friends with. I loved her craziness. Together they were just so darn adorable.
I would highly suggest Tamed if you're looking for a fast-paced, fun, steamy read. It's the third book in The Tangled Series, but it can be read as a standalone novel. I hadn't read the previous books and it didn't matter at all. The first two books are another couple in the book, but Tamed takes places concurrently with the first book in the series and it doesn't really give away much. I'm really looking forward to going back and reading the first two books now. I already have them on hold at the library!
Oh! I almost forgot! I also got a bonus short story at the end of the book called Holy Frigging Matrimony. It's a novella update to the first book in the series. It was really cute as well.
Other books in this series: