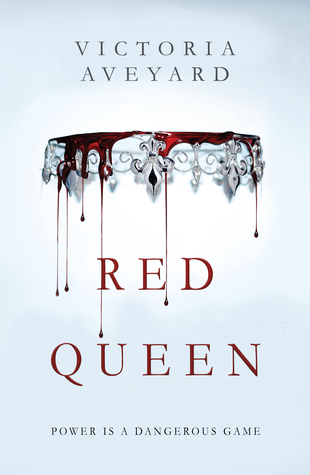 Red Queen (Red Queen #1)  by Victoria Aveyard
Publication Date: February 10, 2015
Publisher: Orien
Synopsis:
Mare Barrow is a Red. If they're skilled, Reds spend their lives working for the superior and magical Silvers. If they're not, they go to the front lines of the war. Mare knows she's not skilled — unless you count thievery. That particular skill won't get her a job, so she knows her time is running out before she goes to war. Unless she can find a way to avoid the war, Mare knows her death is imminent.
Unexpectedly, Mare finds herself working at the Silvers' palace. She feels horrible working for the group that oppresses her people, but can't help but feel good that she's finally making her parents proud. Those feelings become even more confusing when Mares discovers a hidden talent. As she learns more about herself and the Silver world, Mare realizes she has more power than she ever thought. But power can be dangerous and knowing who can be trusted is difficult.
My rating: 5 out of 5 stars
Red Queen has been showing up constantly in my Goodreads Updates feed. It seems like just about everyone I follow there has read it and loved it. I have been putting off reading it for a while because I wasn't sure it would be something I would enjoy. I'm not big into the dystopian fantasy genre–especially prince and princess type novels. I have a really hard time buying into the "I love my poor male best friend…but I also love this new prince I've just met" love triangles that seem to pop up in most of them. But I finally decided to cave and read Red Queen last week.
I'm glad I did. Red Queen was different than what I was expecting. It grabbed my attention from the beginning and kept it throughout.
I loved the setting, the characters and the writing. Victoria Aveyard did an amazing job creating an interesting society filled with magical abilities. I felt like I could picture her cities in my mind. Her characters were complex and it was fun waiting to see what they were going to do next. I even enjoyed reading about the evil Silvers.
One of my favorite things about the book was that despite the fact it had a love square (Can't be a triangle with four points, can it?), romance wasn't the focus of the story. Red Queen focused not on who Mare was going to fall for but how each relationship shaped her choices and the path she took. It was all about the Red versus Silver plight. That was refreshing.
The only thing that drove me nuts was the main character's name. Mare Barrow. Every time I read Mare Barrow, I thought Bone Marrow. I kept wanting to call her Bone. Which, when you think of it, makes total sense with all the references she makes to bleeding red.
Red Queen is a book YA dystopian fans are sure to love. It's fast paced, full of action and the cliffhanger ending leaves you begging for the next book to come out as soon as possible. I can totally see a movie version in the future.