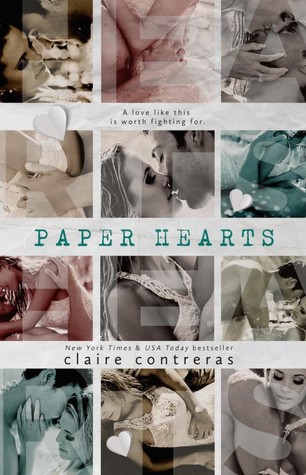 Paper Hearts (Hearts #2) by Claire Contreras
Publication Date: September 9, 2015
Synopsis:
It's been six years since Jensen broke Mia's heart and in turn broke his own. Now, he has a chance to make things right. He has a chance to prove they are still meant for each other. Jensen's going to do everything in his power to get back the love of his life.
My rating: 5 out of 5 stars
Shortly after its release, Colleen Hoover posted a picture of the cover of Kaleidoscope Hearts on her Facebook page telling her fans to read it. I was looking for something to read and since I admire CoHo, I decided to give it a try. I absolutely loved the book. It started me on a Claire Contreras reading frenzy. I went on to read four of her books in a row.
I had no idea Ms. Contreras was coming out with a sequel to Kaleidoscope Hearts. When I randomly saw the novella Torn Hearts on Amazon, I freaked out. I couldn't believe I was getting Mia's story! I read it and was disappointed that it was just a build up to Paper Hearts. I loved it and I wanted to know where Mia and Jenson's story was going so bad. I didn't want to wait!
Luckily, I didn't have to wait to long. I follow Claire Contreras on Goodreads and got a notification there was a group dedicated to her works forming. I joined and not too long after was given the opportunity to request an ARC of Paper Hearts. I was elated when it showed up on my Kindle! I started reading it right away.
The first half of Paper Hearts was hard for me to read. Gone was the Mia I fell in love with in Torn Hearts. It was uncomfortable to be trapped in her post-Jensen head. I understood her thoughts, feelings and reactions. It's hard to move on from someone you have loved so deeply. It just wasn't as fun to read as I was expecting. It honestly felt like I was going through it myself.
It wasn't until Mia started to let her guard down and let the feelings she was holding onto go that I truly became addicted to the story. I was surprised by how much empathy I felt toward Jensen. I wasn't expecting that. I loved the way he tried to win Mia back. And even though it was hard to read, I love that Mia took the time to examine her feelings.
Paper Hearts was a beautifully written second chance romance. NA and contemporary romance readers who enjoy heartbreaking tales of love will enjoy this one. It definitely brings out all of the feels.
Just a quick note: You must at least read Torn Hearts prior to reading Paper Hearts . It's a prequel novella and it will give you the history behind Mia and Jensen. It's amazing!
**Thank you to the author for allowing me the opportunity to read and honestly review Paper Hearts.
Other books in this series: