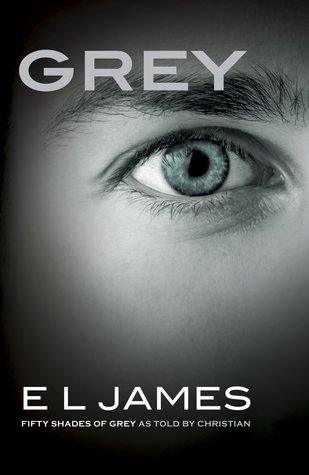 Grey by E.L. James
Publication Date: June 18, 2015
Publisher: Vintage 
Synopsis:
Christian Grey is a man with many secrets. He's been through things no one should ever have to go through and it's shaped his adult life. He's a successful, rich, dominate male — emphasis on the dominate. Christian's used to getting his way in both business and sex. He doesn't do love or romance.
When Christian agrees to an interview for a college newspaper, the last thing he expects is to be attracted to the interviewer. Anastasia Steele should annoy him. Instead, she captivates him. He wants her bad. So bad he's willing to bend his rules and give her a little "more."
My rating: 3.5 out of 5 stars
Obviously, Grey is a retelling of Fifty Shades of Grey in Christian's POV. It's over 500 pages and walks you through what Christian was thinking when he and Anna met. It covers book one.
I have to admit that when I first started reading Grey I wasn't that impressed. I found Christian's self dialogue to be kind of annoying and I didn't really like him. I started to worry that the magic of the original book was going to be lost after reading this one. What I figured out as I read was that Christian without Ana was a major jerk. Ana brought out the good in him. Once he met Ana, the story was so much better to read because he was so much happier.
I gave Grey 3.5 stars because while I did end up enjoying the book, I didn't love it. I basically felt like I was rereading Fifty Shades of Grey. There were a few new insights but not enough to really make it different enough to really stand out. It would have been nice to have a few new Christian/Ana scenes that we didn't see in the trilogy.
That being said, I do think readers that loved the original trilogy will enjoy reading Grey and getting a glimpse into Christian's inner thoughts.
Other books in this series: